From the Bishop
Dear People of God,
An enormous, devastating earthquake. Spy balloons. Mass shootings. A warm, almost snowless winter. Tiktok challenges to steal Kias and Hyundais. People are still sickened by covid. St Stephen's parish closing. As the Wicked Witch of the West put it, "What a world! What a world!"
What a world, indeed. It's discouraging, isn't it. Sometimes I feel discouraged, too. In the midst of all these things – and more – what are we to do? How do we get beyond our own shock and grief, our fear and paralysis? What are we called to in this time?
In recent years, I've begun to realize – slowly – that the dislocations we all experience, far from being unusual, are a continuing part of human life. Personal tragedy, illness, broken relationships, natural disasters, abuse of the environment, murder, and war are ongoing parts of the human experience. The Middle East was once called the Fertile Crescent. England and France once fought 100 years of war. Our country has been in one or another military conflict for nearly all of my life. Members of my family have died. And so it goes. The experiences of our time are linked across time with the experiences of human beings everywhere.
We fervently want a better world. We fervently want health and peace. We fervently want security and hope for the future – as have people across time and everywhere.
I think folks in Jesus' day probably felt a lot like we do – lost, oppressed, and powerless. Nevertheless, Jesus' counsel to them was, "Get on with it. God loves you and will sustain you. God walks with you in your distress. God will greet you when you finally arrive home. And in the meantime, your job is to share God's love, to reach out a hand in love to the poor and weak, to be voices in the dark for light and truth, to be signs of the better world. Even for your enemies, even as you suffer, your job is to love. So begin, now, every morning."
We have our struggles – struggles in our personal lives and struggles as members of the Diocese of Rochester. Things are not always as we would like. But we have been called to follow Jesus, and it's time to get on with it: to turn the past over to God, to face the realities of the present, and to look to the future, trusting that God walks with us.
We have no guarantees that things will get better, or that our hopes will be fulfilled. But they certainly won't be if we sit back and wait. All around the diocese, I see folks energized by possibilities, trying new things, persevering in the work God has given them, and rejoicing in the signs of new life they see and experience. That's my hope for all of us. May we in the midst of this often discouraging world hold fast to our hope in Christ. May we take our first steps and get on with it.
+Bishop Steve Lane
Register Now for Exciting Youth Events
Dear Episcopal Diocese of Rochester Youth and Families,
After a long hiatus, we are excited to share that Diocesan Youth events are returning! We are in the planning stages of Roc the Diocese and Episcopal Youth Event. These events are both being offered for the first time in several years and they are fantastic opportunities to connect with other young people from around the Diocese and the wider Episcopal Church. Please read over this information as a family and register for these events if you are available. Do not hesitate to be in touch with any questions.
Roc the Diocese – 6th – 12th graders
Our annual youth retreat for middle and high school students is going to be at the Y at Watson Woods from April 28-April 30. This weekend retreat is full of games, music, worship, good food, and plenty of time to hang out with friends new and old.
Who: All 6th through 12th graders in the Episcopal Diocese of Rochester and their friends.
What: A weekend with other youth exploring faith and building community in fun and unique ways. There will be lots of time for hanging out, eating good food, and taking a break from busyness.
Where: The Y at Watson Woods in Painted Post, NY.
When: Roc the Diocese begins with dinner on Friday evening and ends after our Closing Eucharist on Sunday morning.
Cost: $100 per youth.
Registration is March 1 – April 12.  Go to https://trinity-greeceny.org/go/RocTheDiocese to register.
For more information, contact Rev. Keisha Stokes, Co-Convener of Diocesan Youth at revkeishastokes@gmail.com.
Episcopal Youth Event (EYE) – 9th – 12th graders
EYE is a gathering of Episcopal Youth from around the country and the world and each Diocese in the Episcopal Church is invited to bring a delegation of high school youth. This year's EYE is Tuesday, July 4-Saturday, July 8 at the University of Maryland in College Park, MD. Throughout the week, participants attend workshops, a variety of fellowship activities, and opportunities for service. Worship at EYE is upbeat, loud, and great fun! Because this is a national event, the deadline for registering is March 3.
The dual-language theme for EYE23—developed by the youth planning team to emphasize welcome and invitation to all young people across the church—is "Regreso a Casa: A New Age of Faith." Regreso a Casa means "returning home" and that's what the 40th anniversary of EYE will be all about!"
Go to https://trinity-greeceny.org/go/EYE for more information and to register.
A Celebration of New Ministry
Reverend Melanie A. Duguid-May was installed as rector of St. Thomas' Episcopal Church in Bath, NY on Saturday, February 18, 2023.  In addition, she has been named as Dean of the Colgate Rochester Crozer Divinity School.
Please join us in celebration and prayer for her, her congregation, CRDS, and her family.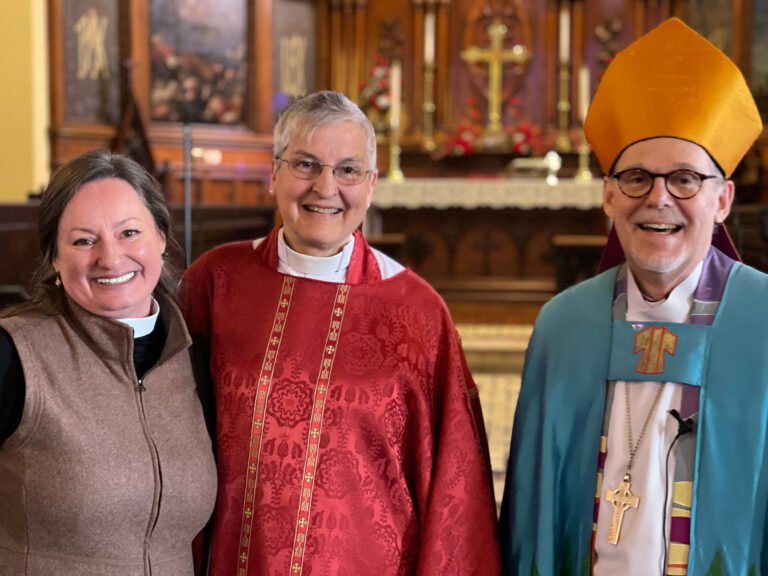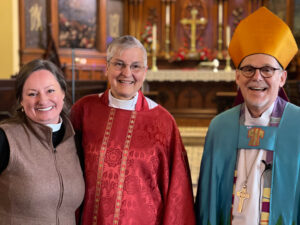 Closure of St. Stephen Episcopal Church, Rochester
Dear Friends in Christ,
I write today to inform you of the decision of the Vestry of St. Stephen's Episcopal Church, Rochester, to close the church and transfer the assets to the diocese. By formal action of the Vestry, the final public worship service will be on February 19, 2023, and the transfer of assets will take place in June. My staff is working closely with St. Stephen's to assure a smooth transition.
The closing of a church is always very sad. There is no way to capture the meaning of the years and years of ministry and formation, the pastoral care, the celebrations, the baptisms, the weddings, and the burials, that have occurred in that place. The meaning of all that is held close in the hearts and memories of the members and their families.
In St. Stephen's case, there have been many, many efforts over the last two decades to secure the community and the building for the future. The changing demographics and the cultural realities of our time have led the leadership to determine that there is no longer sufficient energy or financial support to continue. I have been part of those conversations, and I sadly concur with the Vestry's decision.
I believe nothing is ever lost to God. The work of St. Stephen's, the love, and the ministries that have been shared over several generations, will continue to resonate in the heart of God and in the lives that have been touched. God will continue to hold what has been offered and will use it for our good and the good of the world.
Under the rules of The Episcopal Church, the memorials and sacred objects of the church and the official records will be secured. The members will be assisted in finding new spiritual homes. The contents of the building will be inventoried. The building itself will be secured and cared for while the Trustees of the Diocese consider alternative uses for the building. In due time, a service of deconsecration will be announced. This process will undoubtedly take a number of months.
The work of the Gospel continues even as this community of faith disperses. I invite your prayers for the good people of St. Stephen's as they labor faithfully to bring the life of their church to a conclusion.
Faithfully,
+Bishop Steve Lane