A Series of Hope / Advent Week 1
Bishop Steve Lane
Mark's mini apocalypse, the fig tree, when you see these things you know that he is near.
Over the next few weeks of Advent, I'd like to talk with you about hope. Hope is the foundation and the energy of Advent. And hope is what we very much need in these last days of 2023. I invite you to join me in a conversation about hope.
It has been my contention over many years that we live in an Advent world. Despite modern advances in nutrition and science, despite the fact that anthropologists will tell us humanity is healthier and richer than it has ever been, we always seem to be on the verge of both burgeoning well-being and calamitous collapse. [In my lifetime, there have been just a few odd years when the US has not been at war somewhere. In my lifetime, middle-class income has been steadily declining so that what my Dad did on one salary, now takes at least two. In my lifetime, nuclear annihilation has been a constant threat and, now, a dangerously warmer planet seems inescapable.]
If I take the broader view, I suppose it's true that the human project has always been precarious. Whether it's the Ice Age or the Black Plague or the rise and fall of Empires or the Flu Pandemic of 1918 or the Holocaust, it is undoubtedly true that humanity has constantly been confronted with the risk of falling back into the swamp. Human progress moves by fits and starts constantly threatened by regression and disintegration.
The Gospel for the first Sunday in Advent begins with a description of the apocalypse, of the end of days, followed by Jesus' admonition that such signs are like the buds on a fig branch. When we see them, we know that spring is near. When we see darkness and disintegration, we know that Jesus is near.
It's my sense that what Jesus is giving us is not a description of how things will end, but a promise that no matter what happens, he is near. He is near in the destruction and death of war. He is near in the ERs and ICUs.  He is near along our borders and in the refugee camps. He is near as old ways of life, old homes and communities pass away and new ones come to be.
And isn't that what we believe? Jesus was borne among us, identified with our lives to the point of death, and through the Spirit, remains with us. We expect and hope that the work Jesus began will be completed and that Jesus will come among us again, at which time God's reign of justice and peace will be all in all.
The promise is not that when we see the signs, darkness, the portents in heaven, that things will get better – or worse for that matter. It's simply that he will be near. And that he will call us into that life of love and mercy which cannot be shaken and will endure. The question we are asked this Advent is, where do we see signs of Christ's presence? What are the signs that tell us Christ is near?
In Advent, we wait in darkness, not for disaster, but for the Light. May the nearness of Christ in our suffering world be the birthplace of our hope. May it be so.
Amen.
+Steve
Subsequent weeks of this sermon series, as well as videos of the sermons given by Bishop Lane, will be posted on the Episcopal Diocese of Rochester News & Events page found at https://www.episcopalrochester.org/news
The Standing Committee announces the state of Candidates for the Ninth Bishop of the Diocese of Rochester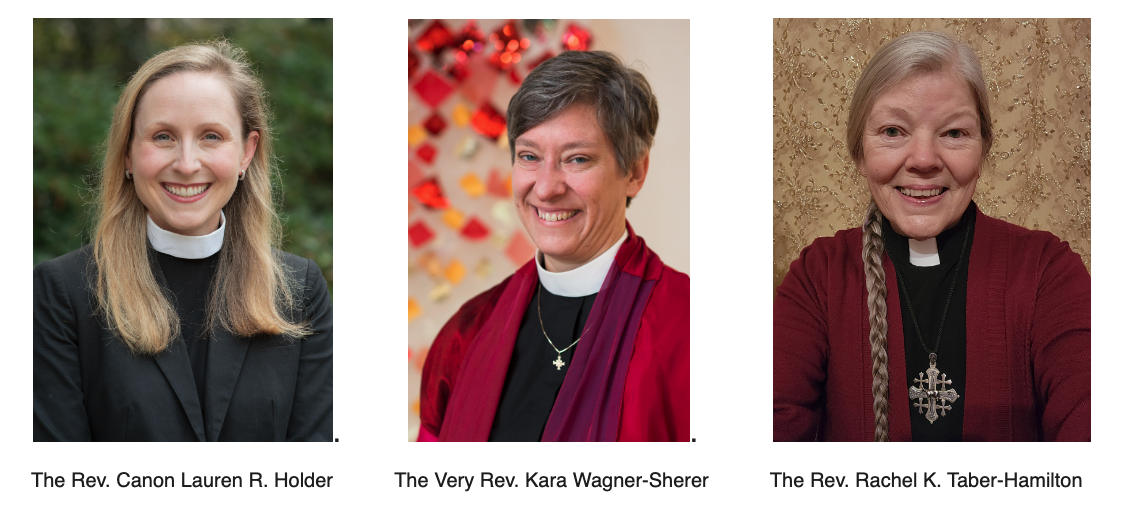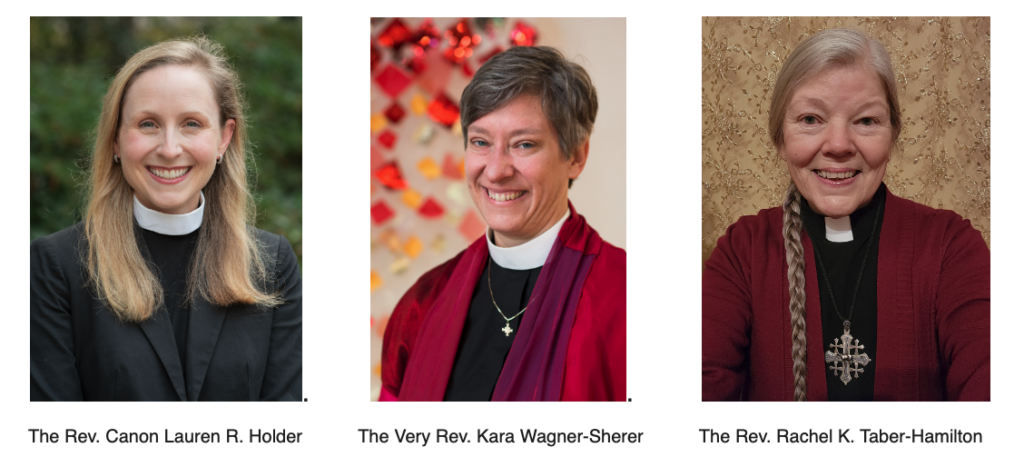 The Rev. Rachel Taber-Hamilton
I am very grateful for the opportunity to walk in discernment with the people of the Diocese of Rochester, a place where I have deep family history, where I attended SUNY Geneseo, and where I was baptized as a young adult. The abiding love that I hold for Christ first bloomed there, and the spiritual path that brings me to this moment feels profoundly sacred to me. The needs and hopes you describe in your profile resonate deeply with my specializations in organizational trauma recovery, community development, and congregational/leadership development. My leadership style is highly collaborative, and I am committed to cultivating people and healthy organizational life inclusive of all orders of the Church.
I believe that Bishops today must be creative leaders with the pastoral and organizational skills for adaptive change, with a genuine love for people and competence in strategic and financial planning. Through my experience over many years of ministry, I have aimed to be leader of authentic depth and breadth. I am currently Rector of Trinity Episcopal Church in Everett, WA, and I serve the wider church as the Vice President of the House of Deputies of the General Convention of The Episcopal Church. As a Shackan First Nation person, I represent the Episcopal Church in the global Anglican Indigenous Network, the UN Forum on Indigenous Issues, and the UN Conference of Parties on Climate Change. A board certified chaplain, I have 30 years of experience in cross-cultural communication; parish and specialized ministry; and social justice and environmental advocacy. My reflective commentary blog is https://greeningspirit.com
The Very Rev. Kara Anne Marie Wagner Sherer
Baptized in the Episcopal Church, my life and faith have been shaped by many communities. From an early age I have been blessed by a deep and abiding sense of God's love for me. My Christian life is rooted in my belief that nothing can separate anyone from the love of God. I am strengthened by my family, my spouse John, and daughters Madeleine and Elsie. My education and first vocation, teaching, shaped my commitment to the formation of our whole selves made in God's image. My call to the priesthood began as a teenage preacher in a small church. As the rector of St. John's in Chicago for the last eighteen years, I have shepherded the growing and deepening community life that can come of a long pastorate. My greatest joy as a priest is witnessing the Holy Spirit breaking down barriers that keep us from knowing and loving God and each other.
I have always heard Jesus' call to "come and follow" through my communities. In your profile I hear your call for a strong leader to support and challenge you to grow in love, generosity, and hope. You are richly blessed with the gifts and resources necessary to respond to God's call. Your geographic, economic, racial, and political diversity positions you to reach out to all your neighbors. It would be my joy to support and encourage a shared vision, to draw into the heart of God all who long for love.
The Rev. Canon Lauren Holder
What a joy it is to discern with you who God is calling to be your next Bishop. I am humbled and grateful to participate in this holy work together.
The honesty of your profile is what took hold of my heart. I heard hopefulness and longed to dream alongside you, I heard woundedness and longed to hold space for your healing, I heard disconnect and longed to build community with you, I heard anxiety and longed to pray with you, and I heard love—so much love—and longed to be and serve the body of Christ that you are and are becoming. That longing has been confirmed again and again throughout this mutual discernment process.
I grew up in the small town of Lexington, Virginia, where I stayed to attend Washington & Lee University.  I later earned graduate degrees from St. John's College and The General Theological Seminary. I have served churches in North Carolina, New York, and Georgia—currently as the Canon for Community and Education at the Cathedral of St. Philip in Atlanta. In all these places, my greatest desire is to build community by connecting people with Jesus and with one another.
I am married to an incredible man from Wayne County and we have family in Wolcott, Newark and Farmington. Our two amazing children enjoy spending their summers with grandparents and cousins in the Finger Lakes. I have loved your people and places for years and years, and I hope to love and serve alongside you for years to come.
---
For more information about the candidates, including essays submitted to the Standing Committee and resumes, go to https://trinity-greeceny.org/go/BishopSearchInfo.