Anna Walsh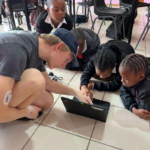 I wanted to provide a brief update on the Holy Cross School (South Africa) STEM Camp after our arrival back in the States. It was a tremendous success!
The goal of the trip was to spread STEM field awareness and interest in young children who otherwise might have no STEM exposure. The children were eager and loved every second of the camp. One student came to me on Friday and joyously proclaimed "that was the best week of my life!"
It was special to see all the students and volunteers grow and learn together. We had one volunteer write in a reflection: "I have never felt so much love from one group of people. The connections that were made so quickly are like none other and we never wanted to leave!"
The school has already asked for the camp to be recreated in the coming years and so the cycle begins with volunteer recruitment and lesson planning. I will be in touch with a video and some more details about student and volunteer stories from the camp once all the media has been sorted through.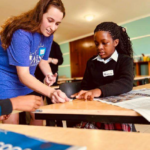 I want to reiterate my thanks to everyone from Trinity who made this possible. It took so many communities coming together in order to make this possible.
THANK YOU!
Trinity Episcopal Church raised over $1,400 towards making the STEM camp a success.  If you would like to support Love Must Act and the Holy Cross School in South Africa, go to https://trinity-greeceny.org/go/LMA