St. Pauly Shed for Habitat for Humanity
Lynn Ringholz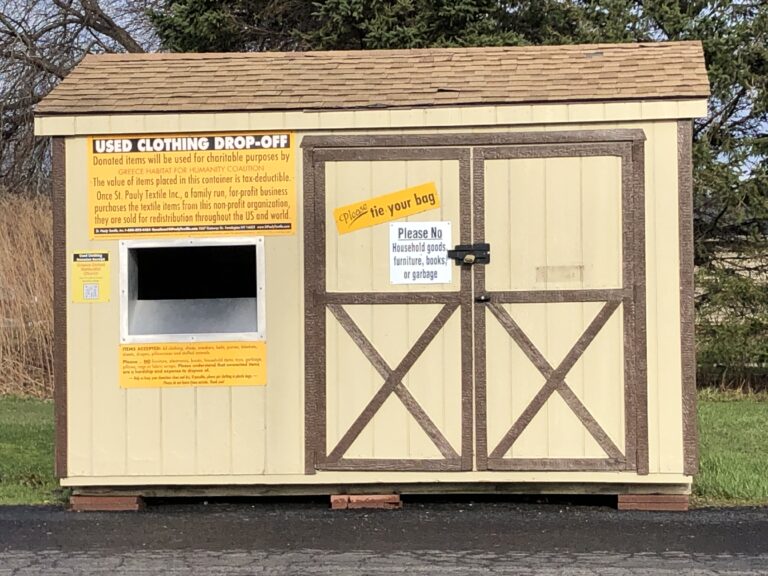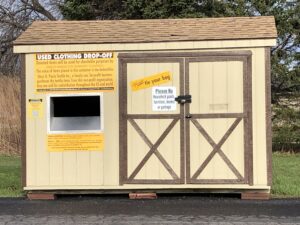 Seven (7) churches including Aldersgate United Methodist, Bethany Presbyterian, Greece Baptist, Greece United Methodist, Hope Lutheran, Messiah Lutheran and Trinity Episcopal, form the Greece Coalition of Churches. This coalition raises money to build affordable new homes through Habitat for Humanity.
The St. Pauly Shed is a major fundraiser for the Greece Coalition Habitat for Humanity project. Community members drop off clothing at the clothing shed. St. Pauly Textile, Inc. purchases the clothing from the local community organization. The community organization uses the money that it receives in order to support its mission or complete important community projects. St. Pauly Textile, Inc. distributes that clothing all over the US and world to organizations such as foreign governments, relief organizations, the U.N., private companies, and the U.S. government.
In 2022, 65,170 pounds of clothing were donated to the shed managed by the Greece Coalition of Churches. This was enough to clothe an estimated 12,005 people all over the world. Based on this volume of clothing, our Greece Coalition received $2,606.79 towards our Habitat for Humanity house build.
How can you help? Do some spring cleaning! Go through your closets! DONATE TO A GOOD CAUSE!
What to Drop-off:
Used clothing, shoes, sneakers, belts, purses, linens, pillowcases, blankets, curtains, and stuffed animals.
What NOT to Drop-off:
Furniture, electronics, household items, books, toys, garbage, pillows, rags, and fabric scraps.
Greece Coalition St. Pauly Shed Location:
Greece United Methodist Church parking lot
1924 Maiden Lane
Rochester, NY 14626
Habitat for Humanity House Fundraiser
Myrna Lawrence-Waters
The Greece Churches Habitat for Humanity Coalition will be sponsoring another Sticky Lips BBQ Fundraiser on Thursday, June 1st from 3:00 PM to 6:00 PM. Drive through, pick up at Hope Lutheran Church at 1301 Vintage Lane, Greece. Dinner includes: 1/4 chicken, smoked pulled pork and two sides (corn and cold slaw) with a slice of corn bread. Please call me, Myrna Lawrence-Waters, or the church office for tickets which are $17.00 each. I will mail the tickets to you, and you can send a check made out to Trinity with Habitat BBQ in the memo line to me or to the church. Thanks for your support.